KANSHOJI, Monastery of the Light of Kannon
Kanshoji is a Sôtô Zen Buddhist monastery.
It is located in the Dordogne, in the heart of Périgord-Limousin natural park, overlooking a big lake surrounded by forests, in a calm and natural setting which is ideal for the practice of the Buddha Way.
It is a school of life, open to anyone wishing to discover, deepen and practise Buddha's teaching.
It is also a training monastery for monks and nuns who will one day transmit the teaching.
Its abbot, Taiun Jean-Pierre Faure, was ordained a monk by Taisen Deshimaru Roshi and was certified as a Sôtô Zen teacher by Dônin Minamisawa Roshi. His teaching is vivid and responsive, while at the same time being rooted in the fundamental tenets of our school.
To live in a Zen monastery is to practise Buddha's teaching in all actions of daily life.
It is to adopt a right lifestyle, respectful of others.
People who come for a stay live in total interdependence with the residents and share all their activities.
Kanshoji literally means : Monastery of the Light of Compassion.
Kan, Kannon : bodhisattva* of compassion
Sho : light
Ji : monastery.
In Buddhism, awakening is synonym for wisdom and compassion. When he awakened, Buddha became the All-Knowing, the Great Compassionate One.
With the practice of meditation, the mind makes itself available to see things as they are. The heart opens to non-separation between Self and other. Other's happiness becomes my happiness, their suffering becomes my suffering.
Kannon (Kan : to see ­ On : sound) is the one who hears the sounds of the world; he sees and hears human beings' suffering.
It is through realising our unity with others that the right way to respond to their suffering can emerge.
Sutra of the Four Bodhisattva Vows
Beings are numberless,
I vow to free them.
Passions are endless,
I vow to overcome them.
Dharmas are boundless,
I vow to practice them.
The Buddha Way is perfect,
I vow to realise it.
Taiun JP Faure, the abbot, maintains a close tie with his master, Dônin Minamisawa, founder of Kanshoji monastery, for zen is transmitted from person to person in an intimate and completely trusting relationship
Taiun Jean-Pierre Faure, abbot of Kanshoji, received the monk's ordination in 1981 from master Taisen Deshimaru and became his disciple. Twenty years after master Taisen Deshimaru's death, he received the Dharma transmission from master Dônin Minamisawa and became a certified Sôtô zen teacher.
He maintains a close tie with his master, Dônin Minamisawa, founder of Kanshoji monastery, for zen is transmitted from person to person in an intimate and completely trusting relationship.
2600 years ago in India, Shakyamuni Buddha awakened in zazen under the bodhi tree. This practice has since been transmitted uninterruptedly from generation to generation. As a tribute to this transmission, we recite our lineage every morning.
In the 6th century, Bodhidharma left Sri Lanka and travelled to China, where the experience of awakening developed under the name Ch'an.
In the 13th century, back from China, master Dôgen established Sôtô zen in Japan, where he founded Eiheiji monastery.
Two generations later, master Keizan continued master Dôgen's mission and founded Sôjiji monastery.
In 1967, Taisen Deshimaru travelled to Europe, where he taught the practice of zen. Until his death in 1982, he educated a large number of disciples, opened over a hundred places of practice, created the International Zen Association (AZI) and founded the Gendronnière temple in the Loir-et-Cher department.
Yashô Valérie Guéneau, disciple of the abbot, speaks about the Master-Disciple relation during the France 2 "Sagesses Bouddhistes" TV broadcast
Residents live all year round at Kanshoji. Among them are monks and nuns who receive the training that will enable them to transmit Buddha's teaching.
Others come for retreats, for a few days, weeks or months… They discover Buddha's teaching and put it into practice in their daily life.
Master Deshimaru said: "Zen is zazen, and every other thing in life". Doing zazen (meditation without object) is absorbing ourselves completely in the sitting posture; just that, nothing else.
With this same mindset, we absorb ourselves selflessly in all our daily activities, being present to the world, here and now. That is how we can respond wholeheartedly to the situations that befall us.
Typical daily schedule:

| | |
| --- | --- |
| 5.30 am | Wake-up |
| 6.00 am | zazen – ceremony – traditional breakfast |
| 8.20 am | dishwashing, vegetable peeling, cleaning |
| 9.15 am | tea-coffee, sharing with the abbot |
| 9.30 am | activities for the community (samu) |
| 12.30 pm | lunch |
| 2.30 pm | samu |
| 5.30 pm | shower & free time |
| 6.30 pm | dinner |
| 8.15 pm | zazen |
| 9.00 pm | lights out |
Doing things as they must be done,
wholeheartedly, without expecting anything in return.
Tsugen Narazaki.
That is what we practice when we sit zazen, when we chant sutras, when we eat in silence… when we weed the vegetable garden, clean the monastery, cut vegetables …
Real Buddhism is cultivated at the heart of everyday life.
Kohô Chisan
All actions performed throughout the day express our gratitude for the life that has been given us.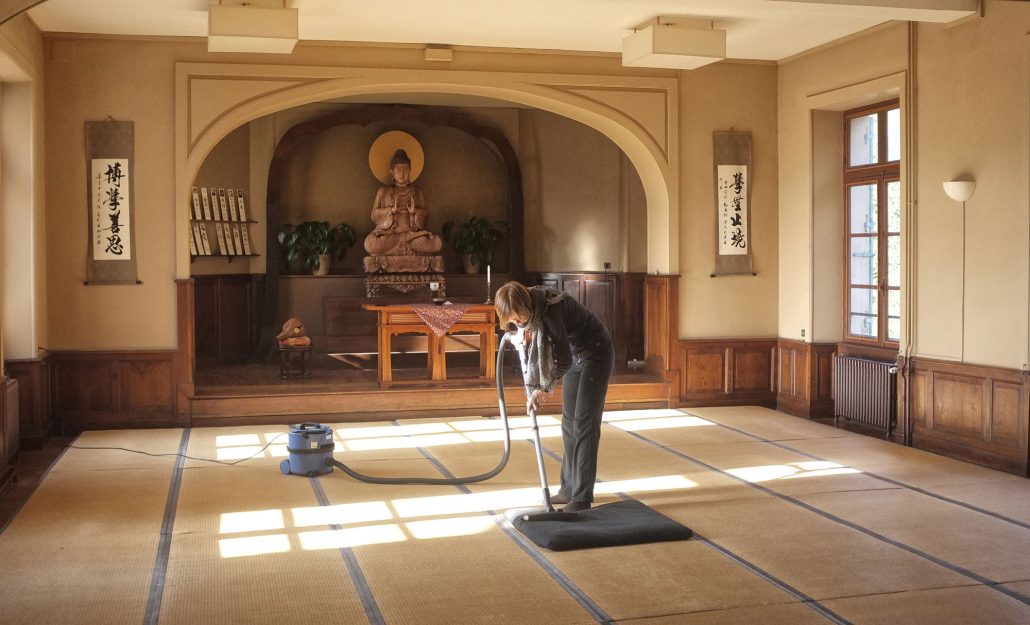 During this retreat (minimum of 5 days), you will discover Buddha's teaching through the experience of monastic life.
In the monastery, we pay great attention to others. The Buddha Way teaches how to live at peace with others.
We can only hear well in silence, we can only see well with our eyes of wisdom, our gaze turned inward. That is why we try to protect the silence and maintain a certain restraint in our relationships.
The first 1-2 days are spent in silence and solitude. You will practise zazen several times a day, and outside of those periods, you will be alone with yourself. Afterward, you will join the monks and nuns in the monastery's activities.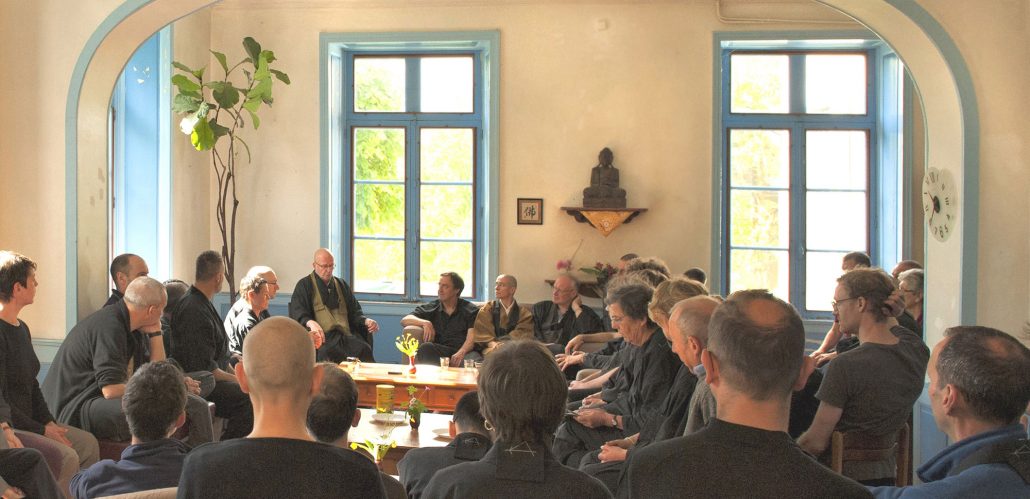 The day usually starts at 5:30 am with zazen. Time is divided between ceremonies, teachings, daily tasks and meetings. The day ends with zazen. Bedtime is at 9:30 pm.
To ensure the quality of your retreat, we ask that you to refrain from using your cellphone or tablet.
If you wish to do a retreat at Kanshoji, please contact the Secretariat by email (secretariat@kanshoji.org) or phone (+33(0)553520635).
Upcoming periods for daily life retreats: In 2019: 27/09-7/11. In 2020: 28/04-26/06, 29/09-10/10, 16/10-10/11 and 24/11-19/12.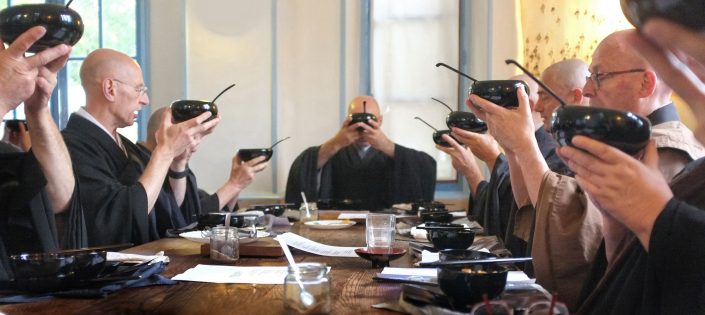 Every month, the monastery holds a retreat (sesshin*).
We absorb ourselves in the practice of zazen, and then in all our daily activities. That is how we can fully live the present moment, with a calm, vast and clear mind.
We let go of our selfishness, harmonise ourselves with others and follow cosmic life.
An initiation to zazen is offered to beginners the day before the sesshin and support is provided by the monks throughout the weekend.
Dates and registration: Calendar

During this 10-day retreat, we return to simplicity and sobriety through the practice of zazen; we return to the normal condition in our everyday activities and in our relationships with the other practitioners.
With our calm mind, we can respond to our existential issues with wisdom and compassion and help others do the same.
All new practitioners receive special attention, such as introductions to the various forms of Sôtô zen practice, and contacts with senior practitioners.
Dates : July 13 – 21 and August 10 – 18, 2019 — Registration: Calendar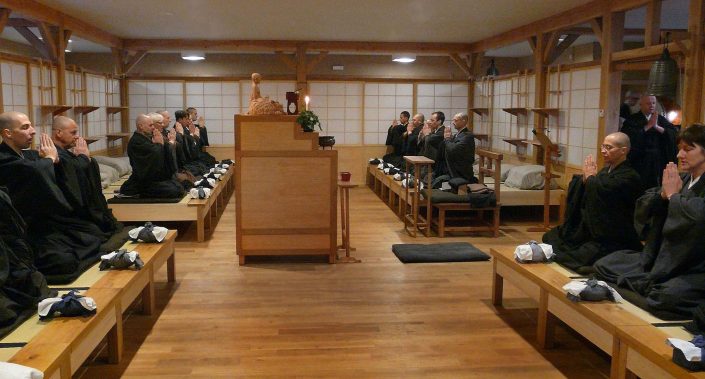 This two-month retreat is called ango*; it is intended for monks and nuns – sometimes bodhisattvas – who have responsibilities in a place of practice or who wish to deepen their commitment to the Way.
Time is divided between zazen, ceremonies, rituals, samu, teachings and practising the different forms of Sôtô zen.
Participants sit zazen, eat their meals and sleep in the dojo. Submerged in the reality of interdependence, they leave their selfishness behind and pay great attention to others.
Dates : January 15 – April 18, 2020  – Registration: contact secretariat@kanshoji.org
Kanshoji Zen Association, founded in 2002, seeks to:
enable the study and practice of Sōtō zen, founded by Shakyamuni Buddha, master Dôgen and master Keizan, and transmitted to Europe by master Taisen Deshimaru.
spread and raise awareness of Sôtô zen teaching and practice.
contribute to the realisation of true freedom of the mind and a better understanding between humans, without discrimination based on gender, race, nationality, belief or religion.
see to the upkeep of the resident monks and nuns.
ensure the training of monks and nuns.
Start/Renew your AZK (Association Zen Kanshoji) membership
Your membership will become effective upon receipt of your payment.