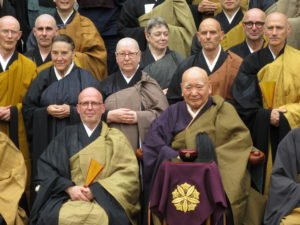 This is an exceptional event that has happened, for the first time in Europe, in its traditional form at the temple of the Gendronnière, at the beginning of June. Almost 150 monks, nuns and lay people lived there for five days of continuous practice (zazen, ceremonies, teachings, ritualised meals) receiving at the end the precepts of the soto zen school (ju : receive ; kai : precepts).
The master of the precepts was Dônin Minamizawa Roshi, vice-zenji of Eiheiji temple and founder of Kanshoji. a delegation of 30 eminent monks had accompanied him, including Master Komei Nara, president of the university of Komazawa.
About 100 people — monks et lay people — came to help the event by taking care of all the material tasks .
Every day, teachings and informal meetings allowed those who where going to receive the precepts to find answers to their doubts and questions. Thanks to that, they were happy to practice the ceremonies with an open heart.  Day after day, faith got stronger, faces became more open… The heart was there and magic occured. On top of the beauty and the depth of the ceremonies, the kindness of the monks who were guiding them helped to get rid of any aloofnesses.
We know today that the practice of zazen and that of the ceremonies that soto zen proposes lead together to our Buddha dimension — and that these practices relate to all human beings, regardless of their culture.
https://www.kanshoji.org/wp-content/uploads/2016/07/IMG_0607-300x225.jpg
225
300
Brice Texier
/wp-content/uploads/2017/12/logo-kanshoji-en.svg
Brice Texier
2016-12-19 16:01:02
2018-01-06 12:53:29
Ojukai at the temple of the Gendronnière