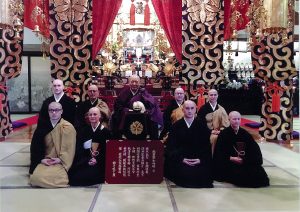 Hossenshiki, Dharma fight, is a very special moment in the life of monk or nun of the Soto Zen tradition…
This ceremony takes place during ango (training period of several months), ango during which the monk or nun holds the function of First of monks*, that is to say the one who, through their practice and their mind, is an example for the other monks in training.
During that ceremony, the First of monks expresses their understanding answering to questions about the Dharma and reaffirms, publicly in the presence of the abbot of the monastery, their commitment in the Dharma.
It is so that Kôsen Carole Servan, nun of the Kanshoji monastery, did Hossenshiki at the temple of Chuôji** on the 18th of December 2017, under the benevolence of Dônin Minamisawa roshi, the abbot, and in the presence of her master, Taiun Jean-Pierre Faure, abbot of Kanshoji. All throughout this ceremony, helped by the novice, Jian Pascale Buffet, Kôsen showed great determination as well as deep concentration. It was quite exceptional and touching to see two French nuns leading such a ceremony in a Japanese monastery.
* the « shuso »
** at Sapporo, in the island of Hokkaido in Japan
https://www.kanshoji.org/wp-content/uploads/2018/01/Hossenshiki-Kosen.jpg
1356
1920
kanshoji
/wp-content/uploads/2017/12/logo-kanshoji-en.svg
kanshoji
2018-02-21 07:56:47
2018-02-21 07:56:47
Hossenshiki of Kôsen Carole Servan