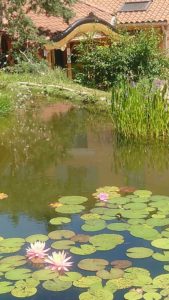 In Shakyamuni Buddha's time, his disciples came together during monsoon season to practise with him and reside in tranquillity. To date, this tradition continues.
Today, humanity is faced with many serious problems. To address them with calm and wisdom, it is critical to return to the normal condition of mind through the practice of zazen.
The summer sessions allow us to devote ourselves to the Buddha Way, far from our hectic lives.
Everyone is invited to live according to their Buddha nature, whether in the solitude of zazen, in selfless activities or in their interactions with others.
During the first five days of the session, we familiarise ourselves with all aspects of daily practice. After a day of rest, the retreat (in Japanese: sesshin, "touch the mind") starts. Practitioners focus on the practice of awakening in zazen.
Teachings on the practice and doctrine are given throughout the ten days.
At the end of the session, a ceremony of entry into the Way is held, called Jukai: receiving and transmitting the precepts.
Led by Taiun Jean-Pierre Faure
/wp-content/uploads/2017/12/logo-kanshoji-en.svg
0
0
ryugen
/wp-content/uploads/2017/12/logo-kanshoji-en.svg
ryugen
2015-11-09 14:59:52
2020-01-23 16:01:09
July summer session