Mokuhô Guy Mercier, responsible for Lanau Zen Centre
There have been events in my life that I wouldn't have missed for the world. Events that command the heart and consciousness to open up to the beauty of things and to circumstances. What is needed to enjoy its taste and fragrance is to open your heart, your eyes, to look, feel and accept to participate fully without having to worry about yourself.
I remain amazed by Man's ability to set up an event, the primary meaning of which is simply human: to receive to give and to give to receive
. Read more
Receive the precepts and transmit them. This is how the Way is actualized in the ceremonies of Ojukai.
A collective will has made it possible to concretize this spiritual aspiration of selfless sincerity. That of the Kanshoji sangha, solid, welcoming and benevolent, who knew how to be present without being burdensome despite the difficulties of welcoming, logistics, complex rituals and delicate stewardship. Tribute is paid to this sangha who sets an example.
Gratitude towards the masters who offered their strength and energy to the realization of the Ojukai and validated it by their presence:
Minamizawa roshi, to whom I am deeply grateful for having accepted coming to France at an advanced age, despite the difficulties of the journey and fatigue. It is also for having spent three months in his Chûôji temple under his benevolent gaze that I renew my deep respect for him.
Taiun Jean-Pierre Faure who has devoted himself to harmonizing both Japanese and European energies and has shown himself to be a considerate and smiling host despite the fatigue and constant pressure of ten thousand things. This shows that the size of the objective makes it possible to surpass oneself without forgetting others. Like a gift whose value is not yet measured, but which cannot be forgotten because it touches our hearts.
To all the other representatives of sangha, masters and teachers, Americans, Japanese, Europeans, who by their presence supervised the kaitei and endorsed their collective commitment. Everything has been imbued with a collaboration and a conviviality that only the generosity and the invaluable dimension of such an encounter can provide.
I left a little sad that it was already over but happy to keep in mind the scent of ceremonies, the flavour of spontaneous encounters, the beauty of faces filled with sincerity and emotion; the pleasure of meeting old acquaintances again, of having tasted together such delicious bentos. Even the fatigue of nights that were too short did not disturb the feeling of being in the right place in a sangha totally oriented towards the Dharma. Even small snags and last-minute catches gave sparkle to this exceptional and historic celebration.
Thank you to all the members of the Kanshoji sangha.
Jokei Lambert, responsible for the Zen temple of La Demeure sans Limites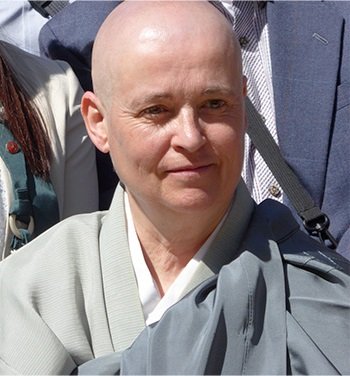 As soon as I arrived two days before the ceremonies began, without wasting a minute, I joined the team responsible for the ceremonies. We had all received what I soon came to call our Bible, a 60-page booklet describing each ceremony in detail, a booklet that would never leave us for a moment until the end of the five days of Ojukai.
There were about twenty of us working on the most important ceremonies. My first impression was: "It's huge! It's really huge!!! "I was wondering if in just two days of preparation we would be up to speed! It was without counting on Bigger Than Us.
Read more
Over the days, our team has harmonized to form a single body. Time has disappeared to give way to what is there, moment after moment.
When all was accomplished on June 5, the aspirants then came to thank us, some with tears in their eyes – tears of happiness and gratitude on bright faces. We were also full of gratitude, and also amazed: that's it, it's over and it was possible, and it was an unforgettable moment! And there, I think there was only our hearts resonating in unison.
That same evening, I asked the two senior instructor monks, who had come especially from Japan for this occasion, how they had lived these few days. For any answer, they simply started crying. It was their way of saying, "Yes, it was a real Ojukai. An act of devotion, of love towards all the Buddhas, the bodhisattvas, the patriarchs and all the masters. This is a great step forward for the spiritual well-being of all beings of the past, present and future in Europe, who aspire to a world of peace and to live together in harmony.
During these five days of Ojukai, I had the feeling that I was welcomed into something bigger than myself. The benevolence of the leaders – especially the Master of Precepts -, all the attention they have given us in a totally disinterested way, simply to help us discover this wonderful world of Buddha, the power of these ceremonies that have lasted for centuries….
All these conditions allowed me to abandon myself, to have complete confidence, and to gradually function differently, with a joyful, very new and grateful mind.Read more
I was taken to a vast, unusual, very sweet place. And this without effort, passively, in the midst of others, and even more, in close contact with others.
Indeed, during these five days we, the aspirants, lived together in great promiscuity. We slept together, we ate together, we did many ceremonies and processions together, we listened to the teachings together.
I was particularly touched by the processions we did every day, during which we walked very slowly in single file, very close to each other, snaking through the monastery into the ceremonial room. As we walked we chanted: Tribute to Shakyamuni Buddha. When we arrived in the ceremonial room, when we were even closer physically to each other, while still chanting, I had the feeling of being part of one body, which resonated in unison.
Reynald Chicheportiche,
Aspirant
When we participated in Ojukai, Mom and I were complete beginners. However, as the days went by, the zazen, initially very difficult and restless, became more and more calm and concentrated.
The ceremonies fascinated me: the protocols I didn't understand, the placements, colours, processions, chants and percussion, the head saluting the ground… My mother found herself more in the teachings.
One thing that has left its mark on both of us, to the point that it brings tears o our eyes, is the generosity that is practiced and constantly central. The gift. We received, a lot, a lot, a lot, during these five days. Such generosity makes you think. Read more
We felt all the work and support of the assistants and regretted not being able to thank each of them for what we had received.
Free discussions with teachers were good and necessary moments, putting into perspective what we were beginning to understand and feel – seeing that different visions exist prevents words from freezing.
Relationships in this group of about fifty aspirants quickly grew to intensify to an astonishing level of intimacy in such a short period of time.
The first few days, Mom and I went through some difficult times. Mom told me she didn't understand anything, then on the third day she gave up, and then everything lit up for her.
On my side, the third day was the most difficult. The group made me feel like I was suffocating, and I wasn't sleeping at all; fatigue might have made it worse. Then during the first great ceremony, that of Repentance, I was delighted, and turned upside down.
Today, we both talk and think often about Ojukai. We realize how extraordinary and rare this moment was. Sharing it together also connects us in a unique way.
Émilie Maréchal,
Aspirante
To gravitate around the kaitei in maximum discretion and to give all your time and energy for the smooth running of this event is, beyond fatigue, sublime, exhilarating.
My experience can be summed up perfectly in these few words from an Indian poet, Rabindranath Tagore: "I served and I saw that serving was only joy."
During these five days, I felt a total openess of the heart, almost physical, the forgetting of oneself in the service of others. I returned to the social world filled with unspeakable joy, and very moved to have received so much in return. It was a great moment of sharing and certainly one of the highlights of my life as a bodhisattva, one more step in my practice.
Olivier Hauc,
Assistant
At La Gendronnière in 2016, I was one of those who had taken refuge in the three treasures and received the precepts. It had been a moving moment, a highlight in my practice.
In Kanshoji this year, I was an assistant and helped make this great event a success.
During the five days, the third pure precept kept coming back to my mind: To work for the good of all existences.Read more
That's what we were doing: taking care of all the people present, kaitei and kyoshi, and making sure everyone was comfortable. It wasn't always easy.
When I had to get up earlier after going to bed later than others:
to work for the good of all existences.
And when I couldn't eat my meals because of lack of time,
to work for the good of all existences.
And when a TV team came to do a report and I had to transform myself into a production assistant or at times a camera stand:
to work for the good of all existences.
At the end of Ojukai, carried by the energy created by the efforts of all and seeing the happy faces, I knew that we had succeeded in working for the good of all existences.
Roberto Di Giacomantonio,
Assistant